Custom Promotions Inc.
Custom Promotions Inc. Web Design Packages
CUSTOM WEB PACKAGES
We have 3 Custom Web Site Design Packages for you to choose from. Each web site we design is unique and tailor-made for our clients. Custom graphics are included. See also CPI Web Design.
CUSTOM WEB SITES: Call
704.696.8484
We have designed Custom Web Sites for businesses in New Hampshire, Connecticut, and Massachusetts.
PACKAGE #1: STARTER WEBSITE
Our starter website package is great for anyone looking to get their business on the internet. It is ideal for entrepreneurs.
This package includes up to 3 web pages of moderate complexity.
PACKAGE #2: BUSINESS WEBSITE
Your top class business website will be created to showcase your products and services well. It will be custom designed for you.
It includes up to 6 web pages of moderate complexity.
PACKAGE #3: PREMIUM WEBSITE
Need an elegant and classy corporate website? This package is right for any type of company website. Your home page can include an animated Flash header.
It includes up to 8 pages of moderate complexity and an animated Flash section if desired.
Guidelines on Providing Content
The content for your website should be provided in separate word documents with up to 10 photos for graphic editing per page. Our graphic designing rate of $30 per hour will be applicable for any extra design or photo editing work (product catalogs, photo galleries, etc.).
Hosting
We provide web hosting for our clients. Hosting is not included in the price of the web design packages. It is an extra cost.
Contact Jay Voelker at 704.696.8484 for details.
(#1) STARTER WEBSITE $750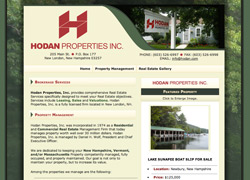 Example: Hodan Properties Inc.
(#2) BUSINESS WEBSITE $925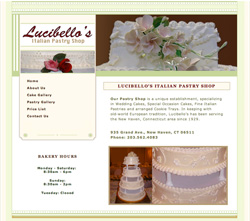 Example: Lucibello's Pastry Shop
(#3) PREMIUM WEBSITE $1075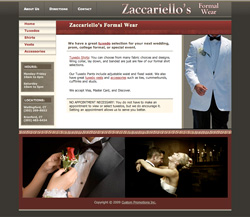 Example: Zaccariello's Formal Wear